Workplace health checks are a core part of what we do, but lots of people we talk to worry that they're going to be intimidating, invasive or painful. We're here to de-bunk all those preconceptions, and show how quick, painless and beneficial they can be!
We talk to one of our health-check experts, Rachael Galvin, to learn more about what you can expect, and how a health check can benefit you!
Rachael delivers workplace health checks for most of our clients at their premises. Here you'll see the health check process, and how straightforward it is!
Question: Why are workplace health checks so popular? 🏥
Rachael: It's 2022 and there's a 3 week wait for a doctors appointment, Health Anxiety is booming and TikTok has become the new Health care advice service.
As a Wellbeing professional I have this year alone completed more than 200 Workplace Health checks, constantly hearing the same things such as – "I can't get a GP appointment", "a doctor told me I have high cholesterol but didn't tell me anything constructive about how to combat this" and things along the lines of… "I just don't have the motivation".
In my opinion the service our NHS workers are doing a fantastic job. Yet, we must bear in mind they are stretched, and if we all took better care of ourselves we would save our GPs a lot of time!
Question: What is a workplace health check? 🧐
Rachael: I'll first tell you what it isn't – A telling off, I'm not going to make you feel bad about lifestyle choices or health decisions you have made. In fact I will encourage you to forgive yourself and try to give you as much education as possible to help you want to make better choices.
In about 80% of the Health Checks I've done, employees come to me nervous and unsure of what to expect, and I'd like to think they leave feeling comfortable, motivated, and feeling full of support no matter what the results they have received.
At We Are Wellbeing our most popular Health Check is our Essential Health Check, this is 30 minutes and includes – BMI, Hip to Waist Ratio, Blood Pressure, Heart Rate, Blood Oxygen, Glucose Level and Total Cholesterol.
Question: What will happen at my health check? 🩺
Rachael: It's super straight forward & easy – your health check with me will look something like this 👇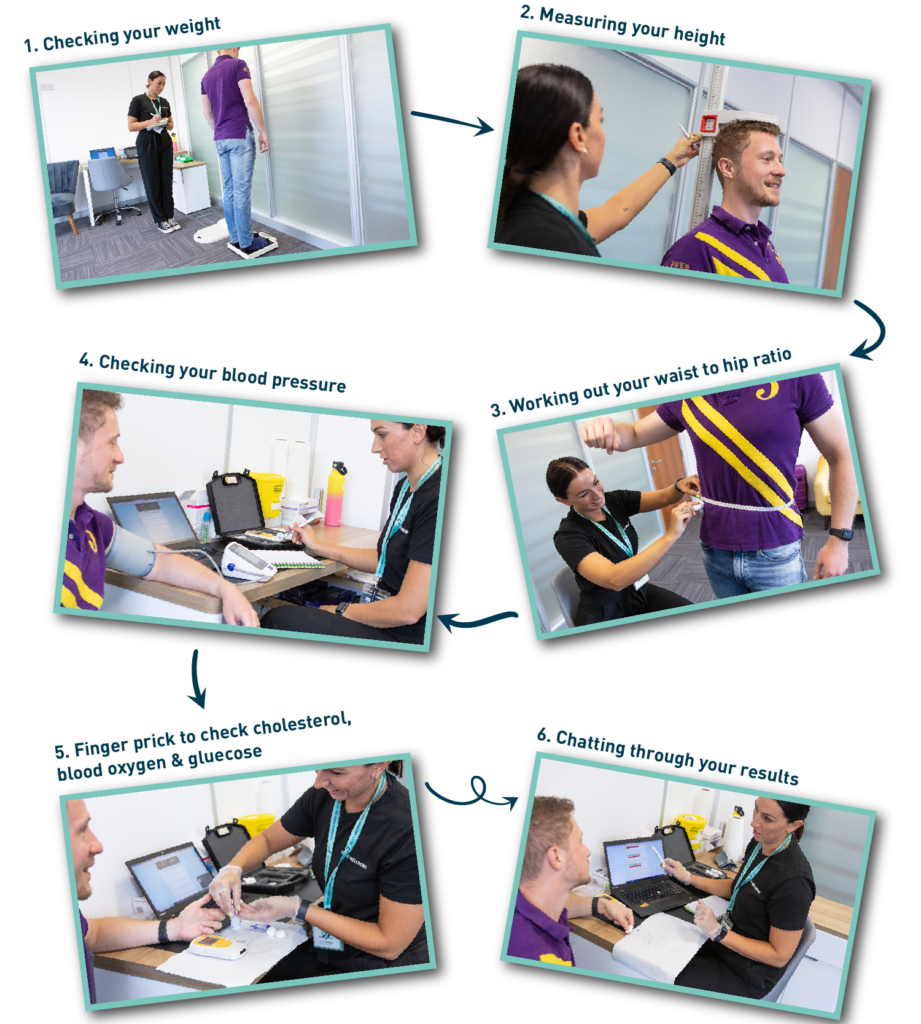 It's that easy! And that's actually me carrying out the health check, so you know what to expect when you're coming to see me for your check!
Question: What can I do with my results? 📊
Rachael: You can use your results as either a pat on the back that you're fighting fit, or you can take what you've learned and make improvements to optimise your health!
The good news is, ALL OF THE ABOVE IS MANAGEABLE!
Alongside an email of all results, employees receive 1 to 1 coaching and some practicable tips to take forward. I can also let you know where to find further support if you should want it.
Employee Health Checks are not just a benefit for an employee, employers can benefit massively from the information. Employers will receive a full anonymous breakdown of employee results, advising them of the averages of each statistic – this can help to tailor incentives and plan focus for employee Wellbeing. In addition to this, our experts find they really get a feel for how employees feel towards a business, which can of course we discussed
Sounds great, sign me up! 🤩
Rachael: Fantastic! And in the meantime, why not hear what some of our existing clients had to say about their recent health checks. We spoke to some of our fantastic clients, about the difference health checks have made in their business, and why they'd recommend them.

"Rachael was very friendly and gave some good advice, which I am using re carbs etc… Also thanks for the contact to talk to someone about menopause. thanks"
"Rachael was lovely and welcoming and made me feel very relaxed. She explained everything in detail and didn't patronize… which I found very refreshing."
"Although the information regarding blood pressure and cholesterol were invaluable, it was the empathy from Rachel that was the main thing I took away from the session. So easy to talk to and such an inspiration. The company are lucky to have her on board."
"Excellent service delivered by a friendly person who explained fully the results and also made you feel at ease during the process, I hope this can become a regular process"
How to access our workplace health checks
If you're an employer, you can learn more about our different health checks here. Take a look at our options, then get in touch with our team to find out how we can support your staff.
And if you're an employee, we recommend that you let your manager or HR team know about our health check services, and encourage them to talk to us to learn more about how we can support you, and everyone else in your business.